GREETING
Dear customers and business partners,

Thank you for taking the time to look through our corporate website.

When I was working as a salesman, I was going through the hardest time of my life.
My mother sent me a book called "The Truth of Life" by Masaharu Taniguchi. After reading the book several times over,
I realized that the purpose of life is to build one's character and contribute to society.
This was a 180-degree change from what I believed before. This new belief ultimately leads to expressing love,
warmth and compassion; to throwing away the ego and unselfishly standing on equal level with others; and to living an honest life.

When I established One by One Co., Ltd. in 1998, I decided to make a company based on this "One by One philosophy.
" After establishment, promising and talented employees have gathered at the right time and place.
We study and practice the philosophy of "The Truth of Life" in our daily work and life.
I believe that, because we respect each other and always try to be honest,
each and every member of my company has had a chance to grow.

My one wish is to be able to through "manufacturing real" and aims to one-of-a kind company representing the world and continue to grow into a company that can contribute to the advancement and development of the humanity and society.
This is so that One by One can become a universal company that exists for harmony and peace.

We acknowledge and deeply appreciate the support we have received from our customers, business partners,
also suppliers, and all those that have helped us along the way.
We will continue to make our best efforts, and we shall be grateful for your continuing support.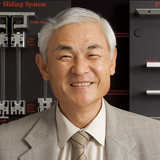 Kuniharu Kohshima
President & CEO
One by One Co.,Ltd.